Senior Leadership Team
The Senior Leadership Team is responsible for the academic, pastoral and administrative leadership of the Royal School.  This group manages the school on a day to day basis, in the interests of pupils and to fulfil the historic mission of the school and the strategic direction of the Board of Governors.
In addition to the headmaster, vice principals and bursar there are a number of senior teachers with specific whole school responsibilities which build on their skills and experience.
Together this team comprises the corporate leadership of the school.
Mr. G. G. W. Montgomery : Headmaster
Mr. Graham Montgomery is a native of county Armagh. Mr. Montgomery joined the Royal School as headmaster in September 2018. He holds a BA degree in Politics and Modern History and a PGCE from Queen's University, Belfast and was awarded the Professional Qualification for Headship (PQH) in 2010. Mr. Montgomery has taught Politics and History throughout his career and gained significant experience in curriculum development and pastoral care through roles as Head of Year, Curriculum Coordinator, Senior Teacher and Vice Principal. He has a deep commitment to the value of boarding education and staff development. Mr. Montgomery is a member of the Headmasters and Headmistresses Conference, the Chartered College of Teaching and the Association of School and College Leaders.
Mr. S. McConnell : Bursar
Mr. McConnell is Bursar and Head of Corporate Governance in the school, including legal, financial, HR and Estates management. He also acts as Secretary to the Board of Governors and is responsible for the Year 8 Admissions process. He is a law graduate from the University of Leicester, holds a Masters Degree in Business Administration (MBA) and is a qualified accountant. He worked at a senior level in the private sector for a number of years and joined the school in 1995.
Mrs. E. Murray : Vice Principal (Curriculum)
Mrs. Murray is Vice-Principal (curriculum) and has extensive educational leadership experience having been Vice-Principal in The British International School of Jeddah for 15 years before returning home to Northern Ireland in 2020. Prior to moving to Jeddah, Mrs. Murray was Head of Humanities in St Patrick's Grammar School Downpatrick, Co Down where she taught Geography to A-Level. Mrs Murray also taught in England in the Brentford School for Girls in Ealing, London.
Mrs. Murray has a master's degree in Educational Leadership awarded by Queen's University Belfast and a bachelor's degree in Humanities (Geography, History, Sociology) from St Patrick's University, Maynooth.
Mr. K. J. Hooks : Vice Principal (Pastoral)
Mr. Hooks is Head of Pastoral Care and former Head of Mathematics. He is currently 2nd XV Coach and in Charge of Scripture Union. He has taught at the Royal School since 1983 and is a graduate of Queens University Belfast and the University of Ulster. He is a former Irish rugby international and has coached the Ulster Schools and Irish schools rugby teams. He is a past pupil of Bangor GS where he was deputy Head Boy and an Ulster Schools' Cup winning captain. He is also an Ulster Schools' Cup winning coach with the Royal School. He still holds the Ulster Schools' record for the 100m sprint set in 1979!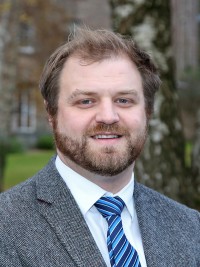 Mr. S. Cardwell : Senor Teacher Pupil Improvement
Mr Cardwell has been a member of staff from 2006 and is a graduate of The Queen's University of Belfast. His Senior Teacher responsibilities include oversight of tracking and the use of data, assessment & reporting, organising parents meetings, Open Night and other events. Mr Cardwell is also the head of mathematics and a Sixth Form Head of Year. He leads the School Scripture Union and is a successful school rugby coach.
Dr. P. W. Addis : Senior Teacher Pupil Data
A graduate of The Queen's University of Belfast Dr Addis has been on the staff at RSA since 1992. His Senior Teacher responsibilities include data analysis, timetabling, arranging Speech Night, production of the pupil 'dash boards', completing DE statistical returns and SIMS management. Dr Addis is also the Head of the Computing and ICT department. His work with pupil dashboards was described by ETI as "sector leading".
Mrs. L. Montgomery : Senior Teacher Pupil Wellbeing
Mrs Montgomery has taught at RSA since 2002 and is a graduate of The Queen's University of Belfast and the Victoria College of Music. Her Senior Teacher responsibilities include safeguarding, special educational needs, learning support and pastoral care. Mrs Montgomery is also the head of the English department. She speaks French fluently, leads the schools ASHA project to India is a producer of the school play.
Miss A Murdock : Senior Teacher Pupil Development
Miss Murdock is a graduate of the universities of Leeds and Bath who joined RSA in 2010. Her Senior Teacher role encompasses primary school liaison, Year 8 and new pupil induction, new staff induction, advising on Teacher Professional Learning, oversight of student teachers, Early Professional Development and work with Beginning Teachers. She is also the head of the Geography department. She is passionate about running and leads the school's Running Club.
Mr. D. Cunningham : Senior Teacher Pupil Achievement
Mr Cunningham has taught here since 2000, with the exception of two years on secondment as the Principal of the City of Armagh High School. His Senior Teacher responsibilities involve, coordinating extra & co curricular activities, rewarding achievement, careers Provision / employability (CEIAG) and oversight of the UCAS process. Mr Cunningham leads the schools' popular and very successful Duke of Edinburgh's Award Scheme.